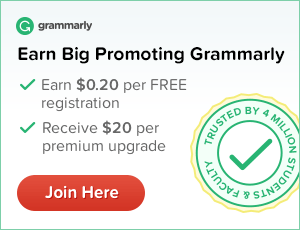 Are you looking to earn more money on your blog or website? Joining affiliate programs is a great way to start earning extra money.
** This post contains affiliate links. If you decide to make a purchase, I will receive a small commission after you have clicked on my link.
Have you heard about Grammarly? Grammarly is an online based professional proofreading and copyrighting tool that helps people communicate more effectively. Millions of users rely on Grammarly every day to make their messages, documents, and social media posts clear, mistake-free, and effective. Grammarly also has an affiliate program.
What is the Grammarly affiliate program?
With high conversion rates, a highly competitive commission structure, pub-friendly keyword bidding policy, and regular cash bonuses, Grammarly resides at the top of the Education category in the affiliate realm.
Commission details:
For each free registration you will earn $0.20
For each premium plan purchase you will earn $25
Other benefits:
High conversion rates (20-30%)
$25 activation bonus
Cross-device tracking
Extra generous 90-day cookie window
Regular performance incentives
World-class affilaite support
Referral program
Perks for Top Performers:
Cash bonuses
Increased payouts
Exclusive discounts
How to sign up for the Grammarly affilate program:
Go to the Grammarly affilate program sign up page. Fill in the application and submit. Once you get approval as an affiliate, youo can start promoting Grammarly by using banners or text links.
Here are some suggestions on how you can promote Grammarly:
Write a blog post about Grammarly and share with friends, co-workers, and other bloggers.
Put banners on your website or blog as a way to attract customers
Promote Grammarly on your social media profiles such as Twitter, Facebook, and Instagram.
Send E-mails or newsletters about Grammarly to your subscribers.
Create a YouTube video about Grammarly. Leave a referral link in the description.
As you can see, Grammarly is one
of the easiest affiliate programs that you'll ever join.
Join the Grammarly affilate program today